What started as a flippant remark turned into a little project! Thanks to Toad for inspiring this undertaking.
The suits are:
Eggs, featuring golden eggs from Salmon Run. This is a nice, simple substitute for the original "coin" themed suit.
Bamboo, featuring the old-men of Splatoon. While Captain Cuttlefish is represented via only his bamboozler gun, DJ Octavio stands in proudly as the 1-bam. A traditional Chinese set would depict a sparrow perched on a branch; here Octavio holds a stalk of wasabi. A Japanese set would more commonly depict a peacock – I enjoyed working some of the concentric circle details that might normally go into the peacock's tail into Octavio's helmet.
Snails, featuring my morphed rendition of a sea snail, doing its best to look like the character 萬 – 'myriad'. (Toad said it initially struck him as being a boat – I guess as a nautical theme it works, though it doesn't scream "Splatoon"). The character suit represents currency increments of 10,000 – when I was thinking about high-value stuff in Splatoon, sea snails sprang to mind!
I think these suits give us a nice little tour around some of the main areas of the game.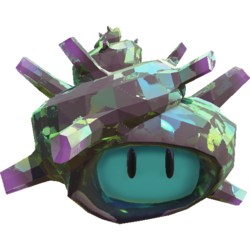 It took a bit of brainstorming to work out the dragon tiles but John suggested tying them into their loose suit associations – the green dragon is most often associated with bamboo because of the green hand, which leaves the red dragon paired with characters and the white dragon to go with balls. Luckily by the time he suggested this I had revised the eggs suit to contain more blue, so the colour association was present when he made the suggestion – though now I want to make them even more blue!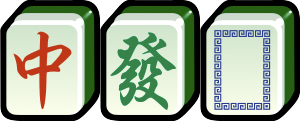 Following the colour patterns, John suggested a Steel Eel could be used to depict the frame of a white dragon. He also suggested using Inklings and Octolings for the remaining two suits – while I took an inkling for the red dragon, I decided to try something different for the green.
With the bamboo suit being inspired by the rivalry between Captain Cuttlefish and DJ Octavio, I preferred the idea of giving a little more limelight to Cuttlefish rather than a generic Octoling. In addition, the Octolings you encounter in Octo Canyon tend to be red, so I didn't really feel right making them green.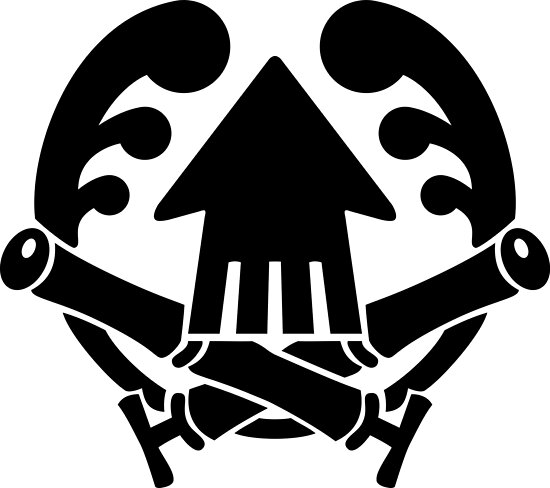 I decided to play with the Cuttlegear logo and hint at that while also attempting to mimic the 發 character. The left side of the character is meant to represent one of Captain Cuttlefish's medals. I'm not totally happy with the current draft but it'll do for now.
The winds are currently placeholders – I think that my handwriting is a bit ugly. I'd like to think of some thematic stuff to replace them with – so far I'm dwelling on thoughts of locations in Inkopolis Square… or something with the great Zapfish, since it got bumped from being one of the dragons…
Finally it might be fun to include a few extra tiles – perhaps the idols as season/flower tiles? Though I'm not sure how well I'd be able to pull them off with this colour palette.